FREE Two-Part Teleseminar
Specifically Designed for Parents of Children
with a Disability/Special Need
"Disability or Different Abilities"
Tuesday March 8th & Tuesday March 15th
12noon (EST)/11am (CST)/10am (MST)/9am (PST)  attendance at both events is preferred, not required.

Are you are a parent of a child who has a disability/special need?
In any given moment you may feel confused, angry, overwhelmed, alone, ostracized, scared, powerless, or like you don't fit in.
Dealing with a disability/special need was not what you signed up for – but somebody registered you for the course anyway – and gave you lifetime membership!
Any of this sounds familiar?
If so, then this teleseminar was created just for you!
This compelling interactive two-part teleseminar series will take place over the phone and will be co-hosted by Gigi Khonyongwa-Fernandez of Families Blossoming LLC and Marianne DiBlasi of Disability Visibility.
Gigi will share viewpoints from the perspective of being a Parent of a child with special needs and Marianne from the perspective of being an Adult who was born with a disability.
The essence of this interactive two-part teleseminar series is to offer new insights from the perspective of the parent and child, respectively. Together, we will expand possibilities of how to be in relationship with disability in a more positive and empowering way — for you and your child.
During our time together, we will be conversing and exploring:
Disability – your relationship to it, your feelings and experiences about it.
Empowerment – as a parent, as a child.
The impact disability/special need has on you, your child, and your relationships.
Navigating through a myriad of systems and professional "experts".
Embracing another viewpoint: Different Abilities.
Join the Free Two-Part Teleseminar
with Gigi & Marianne!
Extra Goodies for Registrants
This teleseminar will be so full of great value that is will take place in two parts on two (2) days. When you register, you will not only be able to participate live in both calls but, because we know that you may be busy in your life and we don't want you to miss out, we'll also send you full audio replays* of both parts.
* Replays are only available to registered participants, so register now above and you won't miss a word!
There will also be an Extra Special Bonus Gift Offer to all who attend the teleseminar.
  Register today so you don't miss out!
About Gigi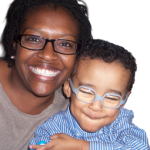 Gigi is a parent coach who specializes in working with parents of children born early, who are sick and/or medically vulnerable and/or parents of children with special needs.
More importantly, Gigi is the mother of Alejandro, an amazing little 4 year old boy, who entered this world at 24 weeks gestation weighing 645 grams. Due to his extensive stay in the NICU, multiple complications and surgeries, he is now legally blind with moderate developmental delays.
Gigi's ongoing personal parenting experience makes her passionate about helping other special parents through their own unique journeys.
About Marianne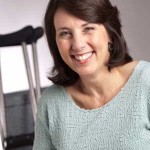 Marianne DiBlasi is the Principal Whole Life Coach at Disability Visibility. She was born with a disability, Spina Bifida, which rendered her legs partially paralyzed.
She offers guidance to individuals and couples who are navigating through the emotional, social and relationship issues that come into play when their lives have been impacted by disability, and provides a path to being more fully alive and empowered.
Parents Say…
"So many times I felt myself nodding my head in total agreement."
"So much [that you discussed] resonated with me."
"I was really impressed with your connection and understanding of what we go through."
We look forward to being with you on this uplifting and inspiring teleseminar.
Come join us – register your place today!
Gigi & Marianne