We offer disability awareness and communication training within organizations that opens the door to increased effectiveness, satisfaction and meaningful contribution for all. This includes learning what to say to co-workers who have a serious illness, or whose family member may be diagnosed with a disability or illness.
Organizations with employees and customers who have a disability or an acquired age related impairment, often do not intuitively know what to do or what to say. This decreases employee and customer satisfaction, effectiveness and productivity. Organizations will benefit greatly by understanding how to actively engage a population of people who are adaptive, creative, resilient, and ready to contribute.
Context for our conversation
According to the US Census, 18% of adults have a disability. They include individuals with disabilities, the elderly & veterans.
The disabled community is growing at the rate of 25% per year due to: enhanced medical technology (babies & adults are living); aging baby boomers; and returning veterans with disabilities.
Approximately 15% of a firm's workforce is either someone who has a disability or who has a child or other dependent with special needs.
Often individuals with special needs and caregivers of loved ones, find it challenging to make clear, direct requests for what they need and want. This puts the burden on others to be a mind reader; to know what they need and how to provide it without any input or information. Of course, it will never be "just right."The conversation needs to shift so each person in the interaction is empowered — and shares responsibility — to talk openly and directly about disability and the impact on providing excellent medical care and value to the organization.
The big taboo topic of disability isn't supposed to be noticed — let alone discussed. With all this silence, how can we create a culture where each person is valued for their differences, expertise and unique expression?"
— Marianne DiBlasi
No one wants to do or say the wrong thing!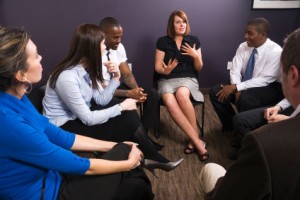 We offer consulting and disability communication training to organizations that seek to have a more integrated and inclusive environment. Our corporate background paired with direct experience of living and working with disability provides a context that is both informed and candid. We know the issues from the inside out.
Who benefits from training and consulting?
Front line staff who deal with customers and consumers. These employees are the face and voice of your company to consumers, customers and visitors.
Human Resources personnel who are recruiting the best talent for your organization and interviewing candidates with visible and hidden disabilities.  Managers and employees will often go to HR for guidance when a situation initially arises or when an issue escalates.
Organizational Members who engage with each other on a daily basis, working together on teams, projects and committees to accomplish the important work of your organization. Prepare and empower your employees, both with and without disabilities.
People Managers who have employees reporting to them so they are able to provide the appropriate support to a valued employee.  Often these managers need assistance understanding how to talk about disability or illness related needs and situations
Corporate executives who set the tone for the corporate culture within organizations, and provide support to the management team.
We can help you learn how to handle disability related situations in a more positive manner.
Your organization can increase employee and consumer loyalty by enhancing communication and developing more effective relationships between employers and their staff, and companies and their customers.
Contact me to arrange for a meeting to discuss your training and consulting needs.  We can customize a delivery engagement to meet your specific population and needs.
Disability Visibility is a preferred partner of Work Without Limits, a statewide network of employers and business partners that are committed to increasing employment for individuals with disabilities and building diversity competence.