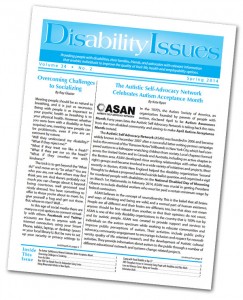 Disability Issues is a publication of Spaulding Rehabilitation Hospital, a member of Partners HealthCare. The Spaulding Rehabilitation Network includes Spaulding Rehabilitation Hospital. Its main campus located in Boston, as well as Spaulding Rehabilitation Hospital Cape Cod, two long term care facilities Spaulding Hospital Cambridge and Spaulding Hospital North Shore and two skilled nursing facilities, as well as twenty three outpatient sites throughout Eastern Massachusetts. Spaulding is a teaching hospital of Harvard Medical School and the official rehabilitation hospital of the New England Patriots. Spaulding is the only rehabilitation hospital in New England continually ranked since 1995 by U.S. News and World Report in its Best Hospitals survey with a #5 ranking in 2011.
Disability Issues is available without charge to anyone who finds it useful and interesting. To request a print or e-mail subscription, please write to:
Spaulding Hospital Cambridge
Attn: Human Resources
1575 Cambridge Street
Cambridge, MA 02139
Call 617-952-6927/voice or send an email to cmmoran@partners.org. The Disability Issues newsletter is published quarterly and shares current information about the world of disability, new initiatives, and other helpful information to the disability community in Massachusetts.
Current Disability Issues Newsletter
Winter 2018 (Vol. 38 No. 1) – PDF | Large Print
You will need Adobe Reader to access the PDF version of Disability Issues Newsletter. Download the software free here
To view Recent Issues and our Archives (2007 to present)